Chain link bracelets, with colorful ribbons woven through them, have been popping up everywhere. This two-toned bracelet will add some serious glamour to any outfit. Less is more and these bracelets are a great compliment to a statement watch. Just by weaving the ribbon through a gold chain link you will have yourself the perfect champagne sipping accessory. With a curb chain bracelet and some ribbon, I will teach you how to make your own ribbon chain bracelet. Hope you enjoy it and most of all, I hope you'll attempt to make it!
Needed materials
31 inches of satin ribbon ½ inch thick (can be purchased at dollar store)
a pair of scissors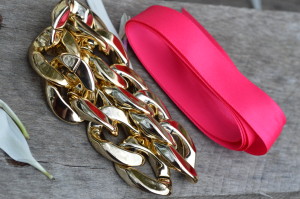 Instructions
Cut 31 inches of ribbon and line it up next to your chain link. Insert the ribbon into the chain link leaving about 7 1/2  inches of slack at the top.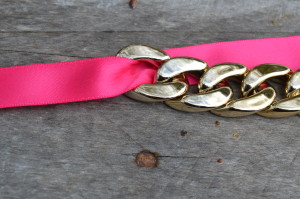 Then pull the ribbon from the back and insert it back through the next chain link .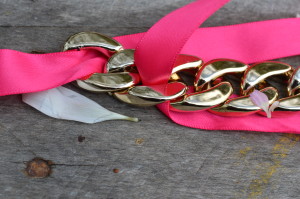 You want to maintain a under and over pattern while pulling gently to tighten the ribbon around the chain.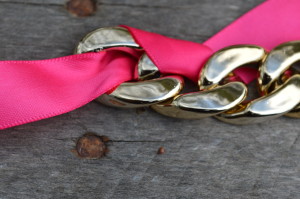 Continue to do this and eventually you should be able to achieve this.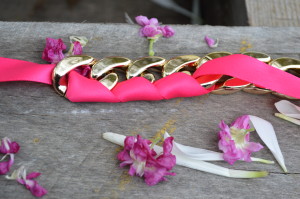 And finally this……Enjoy!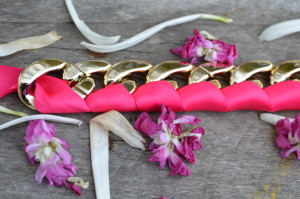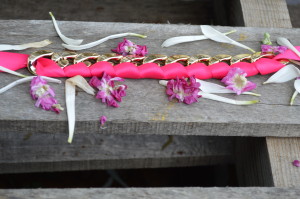 Once you are ready to wear it just wrap it around your wrist and tie a beautiful bow. Like this…..
Pin this!!