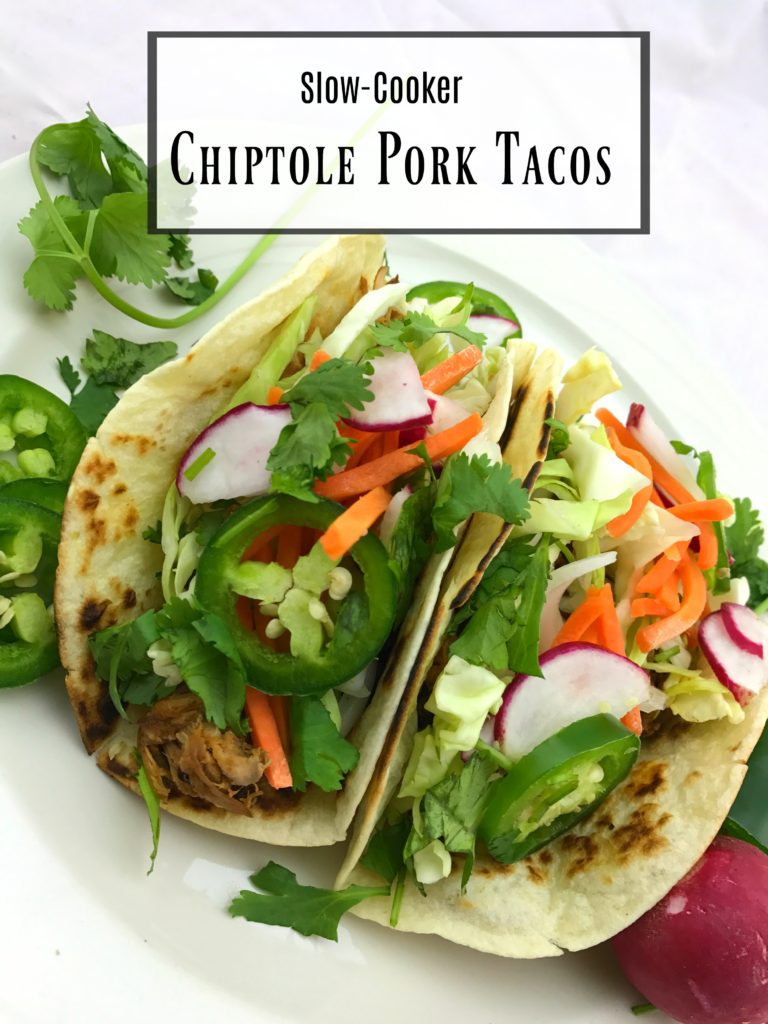 Slow-Cooker Chipotle Pork Tacos
Crazy juicy and fall apart tender in your mouth tacos with a spicy kick!
3 whole ancho chiles
4 cloves garlic, unpeeled
2 cans of chipotles in adobo sauce
1 medium white onion, roughly chopped
3 tbsp extra-virgin olive oil
1 tbsp cider vinegar
Kosher salt
2 tsp teaspoons dried parsley
4 lbs Bone-in Pork Butt
Freshly ground pepper
2 bay leaves
Corn or flour tortillas, warmed, for serving
Assorted taco toppings, for garnish (radishes, cabbage, shredded carrots, diced mango.)
Place the ancho chiles and the garlic in a bowl. Stem and seed the chiles and peel the garlic. Transfer the chiles and garlic to a blender.

Add the chipotles, 2 tablespoons olive oil, vinegar, 1 tablespoon salt and the dried parsley to the blender; puree until smooth.

Rinse and dry the pork butt, rub all over with salt and pepper.

Place the pork in a slow cooker (fat cap up), top with the onion, bay leaves, and puree mixture.

Slow Cook on low for 10 hours or on high for 6 hours.

Pork should be tender enough to shred. Remove from slow cooker, discard the bay leaves and let cool slightly. Then shred using two forks.

Serve the shredded pork in the tortillas, along with toppings.
To serve the pork crispy:
Heat 1 tbsp of oil in a large non stick pan or well seasoned skillet over high heat. Spread pork in the pan, drizzle over some juices. Wait until the juices evaporate and the bottom side is golden brown and crusty. Turn and just briefly sear the other side.