Salon treatments to maintain shiny healthy hair can be a bit out of reach for some of us. Due to the cost of pricey hair masks. Luckily, with research I was able to find some beauty secrets to acquire shiny glistening hair without professional help. If you want to achieve the same glossy strand hair look, try this at-home Coconut Lavender Hair Mask. Your hair will look great and smell amazing!
What You'll Need:
• Small glass bowl
• 2 Tbsp. of unrefined, virgin coconut oil
• Fresh or dried lavender sprigs (or 2 drops lavender essential oil)
• Measuring spoons
• Shower Cap (optional)
Instructions:
1. Put 2 tablespoons (the recommended amount for medium-to-long hair) of coconut oil to your bowl. Remove the greens and/or buds from your lavender and place it in the bowl as well. A few sprigs is enough. If you are using lavender oil apply the 2 drops.
2. Place your glass bowl over a sauce pan filled with water. Turn your heat to low-medium and permit the coconut oil to melt, stirring occasionally. Keep this manner going for 45 minutes to an hour, then take it away from heat.
3. Allow your infused coconut and lavender oil to set for 10-15 minutes, or until it's slightly warm (not hot). Remove the lavender pieces if desired.
4. Run the oil through your hair, evenly distributing it from roots to tips. Massage it in until your hair is completely soaked in coconut oil. Then put your hair in a bun and cover it with a shower cap and let it sit for as long as you can, for a deep conditioning hair mask treatment.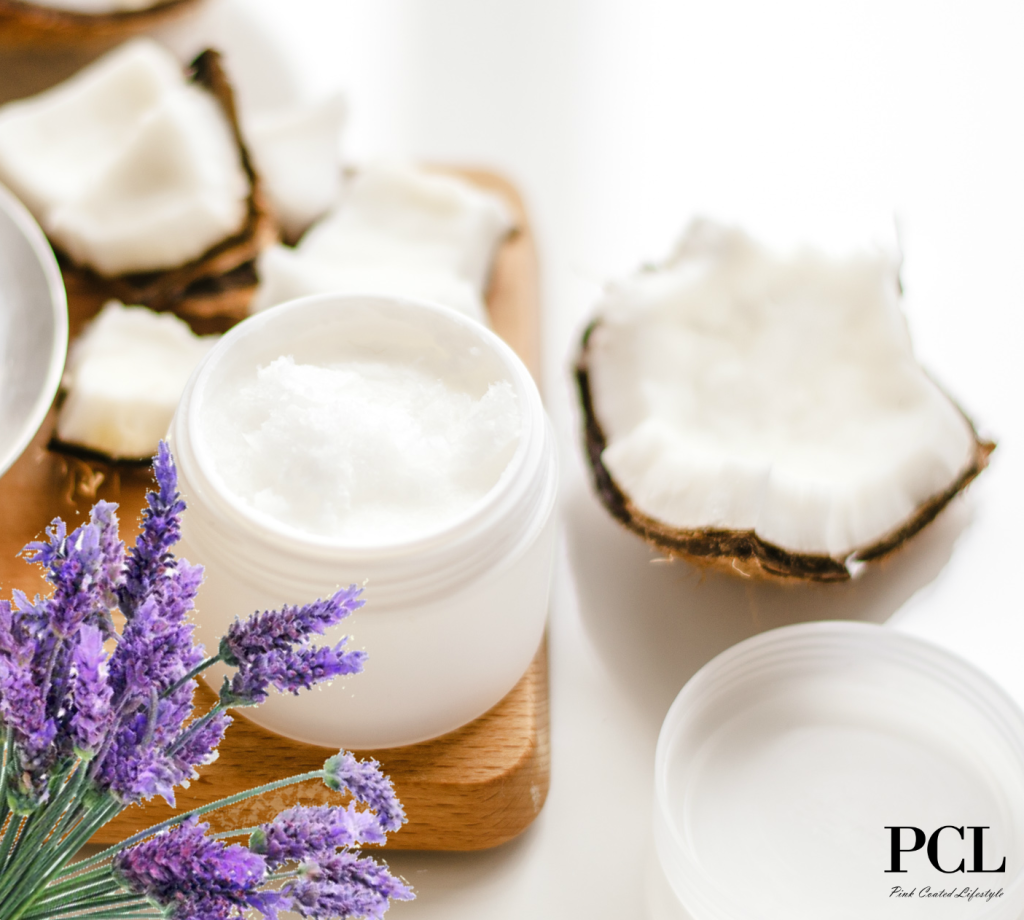 Tip:
I like to do this at night, and wash my hair in the morning. The longer you keep it in your hair, the more conditioned and shiny your hair will be. Do this treatment once a week if you have dry hair.
Benefits of this hair treatment are:
• Nourishes hair
• moisturizes scalp and strands
• Helps prevent shedding hair
• Improves blood circulation on the scalp aiding hair growth
• It has powerful antiseptic qualities to fight off dry scalp, fungi, bacteria, and other microbes
This treatment has helped me so much with re-hydrating my hair and regaining shine! I hope you guys decide to give it a try too and that you enjoy the same benefits. If you do let me know how it works for you.
and for more details on lavender benefits for hair growth please check out the following article.
www.hairlossrevolution.com/lavender-oil-treatment-for-hair-growth
I would really love for you to send me your pictures by email or tag me in them on my IG or FB, if you try this treatment.
Facebook.com/pinkcoatedlifestyle
IG: Pinkcoatedlife
Email: [email protected]
Also, if you like this hair mask please make sure you comment and let me know what other beauty recipes you will like for me to pursue in the future:)